There's always something happening at Waterborn
We never need an excuse to get out on the water. Rain or shine you'll find us exploring, racing, training or just chilling out and taking in the scenery.
We run a very active SUPclub for paddleboard enthusiasts like ourselves. Whether you're a beginner, looking to improve or fancy trying out some racing, we run a full event calendar all year round.
Anyone can turn up and either bring their own board or rent one of ours. All abilities welcome, but as with all club activities you MUST be able to SUP independently.
Why not check our events calendar [link to events page] to see what we've got planned for the coming months.
For most club events we only charge £8 if you supply your own board or £12 if you want to hire one of ours, Paddle and Pick events are cheaper as a thank you for helping the environment.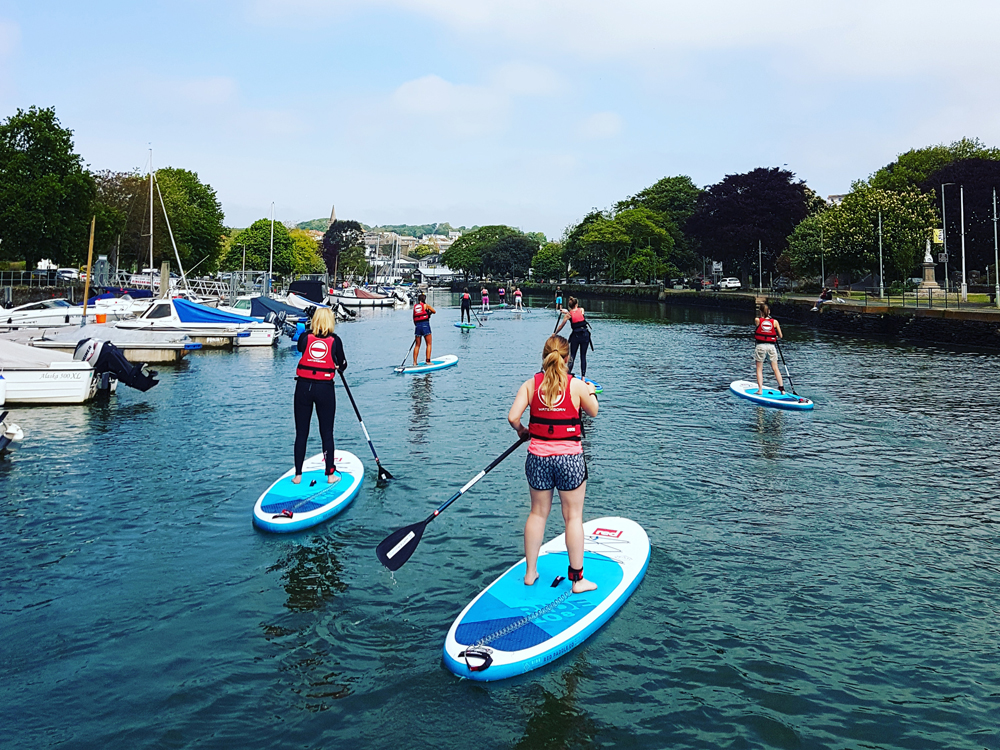 Club evenings

Every Wednesday we hold a club training night. This is aimed at improving race technique and fitness. If you would like to try out racing, our club nights are the perfect introduction to building your confidence.
Waterborn won the UK Club Championships in 2015 and 2018 so we must be doing something right
Race series
We regularly race amongst local paddlers and ourselves. Racing is a great way to keep fit and continually improve your technique. We hold a Winter Series and Summer Series, which are always popular and great fun. All sorts of people take part from beginners to experts. You don't need to be a speed merchant and we have different classes to suit all types of board and ages.
See our events calendar for dates.
Ladies social evenings
This one is aimed at lady paddlers only and is one of our most popular events with up to 40 local ladies regularly turning up!
Depending on the tides and weather we will either paddle from our activity centre or meet up at a beach for a coastal paddle. It's a great opportunity to meet other local ladies and enjoy time on the water.
We hold ladies social evenings during the summer months on every other Monday. See our events calendar for dates.
Breakfast club
This is another firm favourite with local paddlers. When the tide is right, we'll hop on a board at 7:00am, often when the estuary is at its most beautiful. We'll paddle for an hour before returning for a well-earned hearty breakfast. See our events calendar for dates.
Morning drop-off SUP
This is aimed at anyone who can spare an hour in the morning – perfect for mums and dads after they have dropped off their kids at school. We head out from our activity centre for a relaxing paddle around the creeks of the Salcombe estuary – the perfect excuse for some 'me time'.
We run drop-offs every two weeks throughout school term times. Check our events calendar for dates.
Water polo
Just when we thought there was nothing left to do on the water, we discovered water polo! What can we say…a ball, two nets and lots of splashing and shouting. What more do you need!
We normally run a couple of these during the spring and summer and you could even get a chance to enter a tournament or two if you're keen. See our events calendar for dates.
SUP Dog
OK we lied. Even after water polo there's still other ways to have fun on the water!
 SUP Dog is the ultimate. It will have you splitting your sides with laughter and you'll definitely get wet. Basically it's British Bulldog on a SUP. One person is the SUP Dog and the rest have to race between two points without getting knocked into the water by the SUP Dog. If you do get knocked in you also become a SUP Dog. The game continues until there's only one left! Keep an eye on our events calendar for dates this summer.